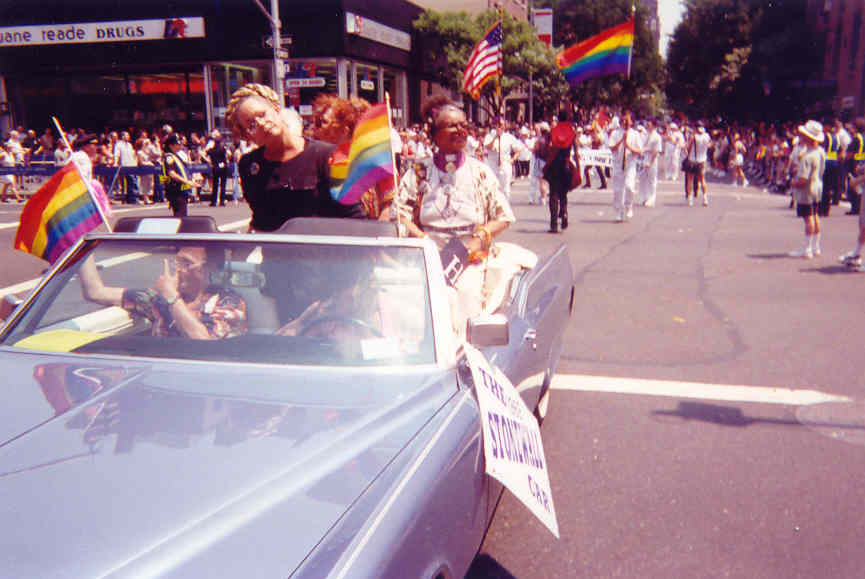 The S.V.A. Flagship crossing Avenue of the Americas
[Photo by Leigh McManus]
The 1969 Cadillac "Stonewall Car" is shown in the heart of Greenwich Village traveling west on Waverly Place crossing Avenue of the Americas ("A/A") heading toward the nearby Gayest street in the world: Christopher Street. The well-known signage on the side of the car reads: "The 1969 Stonewall Car". S.V.A. Stonewall Veterans ridin' high in the "Stonewall Car" pictured above are (l-2-r): Terri Van Dyke (ridin' "shotgun"); Cristina Hayworth (up from San Juan standing in the car a la Evita); Yvonne Ritter (atop rear seat, left) and Rev. Magora Kennedy (atop rear seat, right). Countess Conni Briana (sun-glared) is driving the "Big Blue". Conni is on transgender loan from the Imperial QUEENS & Kings of Greater New York. Because for only the second time in New York City parade herstory, the "SW-Car" contained only females, Terri Ann labeled it the "Stonewall Fish Tank"! That was doubly hillarious as some people admiringly refer to the two-and-a-half ton car as built as strong as a tank! To which Williamson replies: "Tank U!"


Post-Parade Press Release re: Mayor Rudy Giuliani and Congressmember Carolyn Maloney



* * * * * * * * * * * * * * * * * * * * * * * * * * * * * * * * * * * *




=acknowledgment=


The roll of film from this 2000 parade has been misplaced through the hands of three different S.V.A. officers, two of whom passed away, thus causing further delays; however, believe it or not, the film is not permanently 'lost' and will be located in the S.V.A.'s treasure vault of (refrigerated) undeveloped rolls of film spanning ten years. The "SW-31" film will be developed and the pictures will be placed here; hopefully, posted during the Summer of 2008. Thank you for your interest and patience.

Pridely,
Leigh P. McManus
S.V.A. Newzletta Editor






June
2019


*G*L*B*T* PRIDE MONTH * "STONEWALL-50"

*





=====2019: 50th Anniversary of the Gay Stonewall Rebellion=====


[Friday night, June 27 ~through~ Thursday evening, July 3, 1969, Manhattan, New York City]