Former New York City Mayor Edward I. Koch -- elected in 1977 after a primary election (with Bella Abzug, et al.), a run-off election (with Mario Cuomo) and the general election and tenured January 1, 1978 to December 31, 1989 -- is happily shown with STONEWALL Veterans' Association ("S.V.A.") President Williamson Henderson at the Gay, Lesbian, Bisexual & Transgender ("GLBT") Community Center on West 13 Street in Manhattan, New York, on Thursday, October 22, 1998. The occasion was for sponsor PRIDE Democrats' "General Election Candidates' Forum". The event was the follow-up to the hugely successful, largest-ever candidates' forum, also sponsored by PRIDE Democrats, on Thursday, August 27, 1998. At that time, Mayor Ed's busy schedule had him elsewhere in America. However, the Mayor personally told Williamson to "....let him know when you have your next event and I'll be there!" True to his word, here he is: Mayor-for-Life Edward I. Koch! See the 'terrific' photo above. And, "How's he doin'?" Great! The forum was co-sponsored by the STONEWALL Veterans' Association, Gay Men of African Descent ("GMAD"), the Imperial QUEENS & Kings of Greater New York ("IQKNY"), Asians & Friends, the G.L.B.T. Political Coalition "GLBT/PC"), Gay & Lesbian Hispanic Americans ("GLHA"), the Millennium Triangle Democratic Club ("MTDC"), the Stonewall Car Club ("SCC") and others -- a very real diversity! Mayor Koch is the one and the only S.V.A. Honorary Male Chairperson since the beginning of the organization. On occasions, he has also been the S.V.A. Honorary Project Chairperson.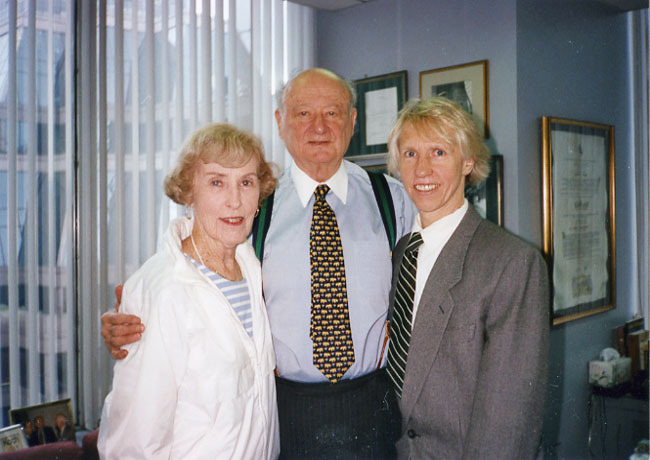 Mrs. Helen Henderson, Mayor Ed Koch and Williamson Henderson

[Photo in 2000 by Miss Jodi Getman]


Back to the PRIDE Democrats Candidates' Forum, Mayor Ed was, of course, the big star of the show and every candidate so acknowledged. And what greater and internationally known Democrat in New York City history than Mayor Koch? None! And, yes it was part show biz. The members of the Imperial QUEENS attending did not come in tuxedoes! In fact, Mayor Ed was first welcomed by the grand Duchess Rayette of IQKNY. Plus, it was media savvy; several journalists attended. Candidate speakers included: Judge Karen Burstein as the dynamic surrogate speaker for U.S. Senate general election candidate Charles Schumer; Eliot L. Spitzer for N.Y.S. Attorney General; H. Carl McCall for (re-election) N.Y.S. Comptroller; Sandra Frankel (in a red dress) for N.Y.S. Lieutenant Governor; and four candidates for the New York City Council 3rd District, namely, openly-Gay District Leader/Stonewall vet Aubrey Lees, un-openly-Gay McManus Democratic Club President Carl Manzano, openly-Gay former N.Y.C. Department of Transportation Commissioner and current Tax Commissioner (both in Mayor Rudy's administration) Christopher Lynn, a longtime supporter of the IQKNY, and openly-Gay S.V.A. non-supporter Christine Quinn. In this Council contest, Mayor Ed endorsed Chris.... Lynn! Due to a hectic election schedule, Mayor Ed's longtime colleague and friend Peter Vallone, Sr., missed this one; however, he was the first of the 24 candidate speakers at the August 27 event. Both forums were sponsored by PRIDE Democrats under the leadership of Williamson Henderson and both forums were hosted by PRIDE and S.V.A.'s President Williamson. By the way, which candidate did Mayor Koch speak on behalf of? He didn't come

just

to be nice and have chicken soup (we didn't have any). The Mayor spoke candidly, very effectively and rather sincerely for the re-election of his longtime friend U.S. Senator Alphonse "Al" D'Amato and, crossing party lines again, for Republican N.Y.S. Governor George Pataki. Mayor Koch is a quintessential New Yorker and is unequivocably unique and truly special.