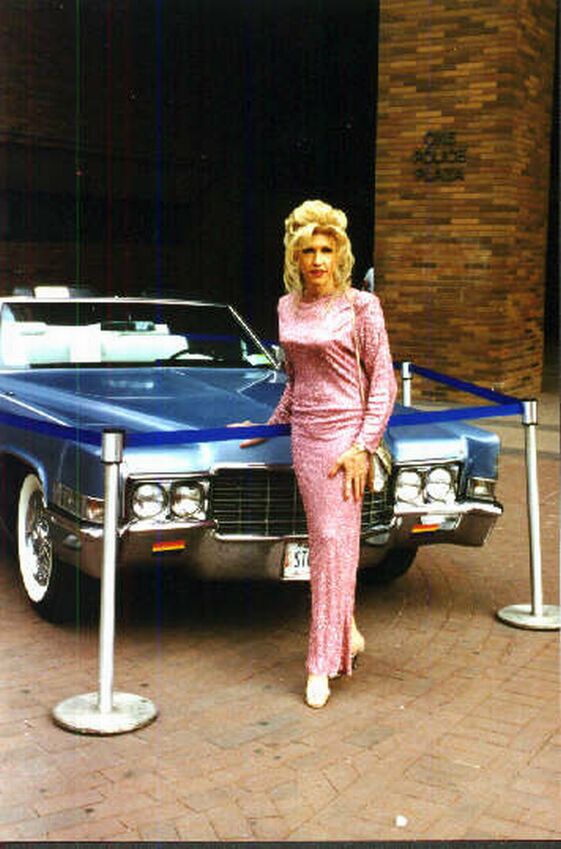 Queen Allyson Allante and the 1969 convertible "Stonewall Car"


Note brass lettering on brick column: "One Police Plaza"


[Photo by NYCPD Sergeant / GOAL Officer Erin J. O'Reilly]


An incredible -- really unbelievable, yet obviously realistic -- photo in

Gay, Lesbian, Bisexual and Transgender

("GLBT") history. Picture a renowned veteran of the historic 1969 Stonewall Rebellion -- Gays and Friends vs. New York City Police Department -- who is also not just a member but the president of the

Imperial QUEENS & Kings of Greater New York

-- a known transgender group definitely not well-received by the NYCPD in the Stonewall Era -- and have her with the impressive, classic blue (as in "the boys in blue") 1969 Cadillac convertible that the NYCPD notoriously 'impounded' at the first night of the 1969 Stonewall Rebellion and then fast-forward the person and the car to New York Police Headquarters for the celebration of a "Gay Pride" event!!! No one could have written such a script! Nonetheless, that's just what this one photo above colorfully shows and proves. It happened on Thursday, June 26, 1997: Queen Allyson Ann Allante with the 1969 "Stonewall Car" at the Gay Officers' Action League (GOAL) annual Gay Pride event at the NYCPD's One Police Plaza headquarters!!! Notice the lettering on brick column.

New York City Police Commissioner Howard Safir (a very professional and pleasant person) personally, respectfully and proudly greeted Queen Allyson. The media, including

The

New

York

Times

,

New

York

Post

,

New

York

Daily

News

and, of course, the

GOAL

Gazette

and the

STONEWALL

Newzletta

had an unexpected bonanza. Virtually all of the speakers at the 3-hour event acknowledged the 28th anniversary of the Stonewall Rebellion which forever -- and for the better -- changed the relationship between the New York City Police Department and the G.L.B.T. communities. This much-improved change of relationship and respect between the police and Gays slowly drifted throughout most of America and the World!

The police-blue 1969 classic Cadillac convertible "Stonewall Car" is owned, maintained, insured, operated, registered and garaged by the

STONEWALL Rebellion Veterans Association

aka S.V.A.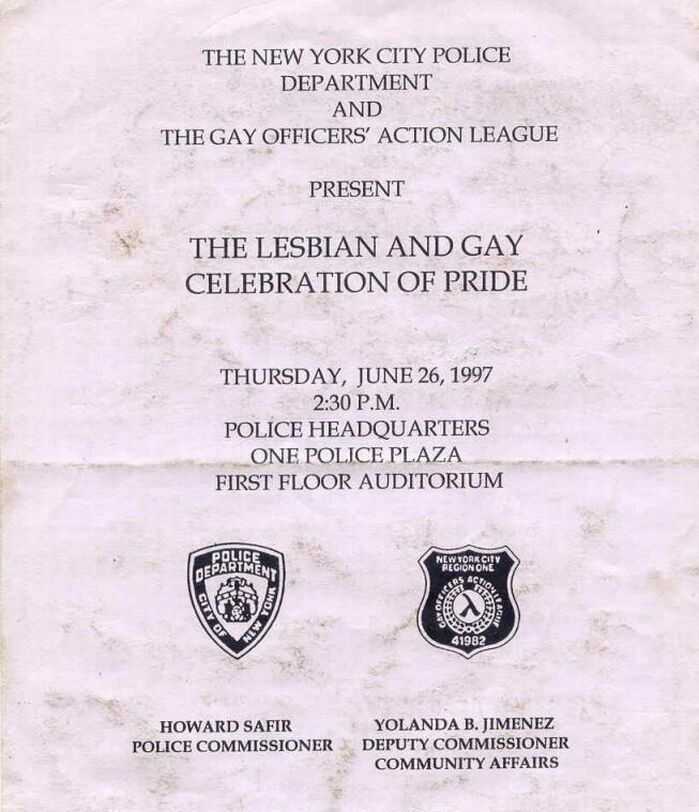 NYCPD

&

G.O.A.L.

present "

The Gay and Lesbian Celebration of Pride

"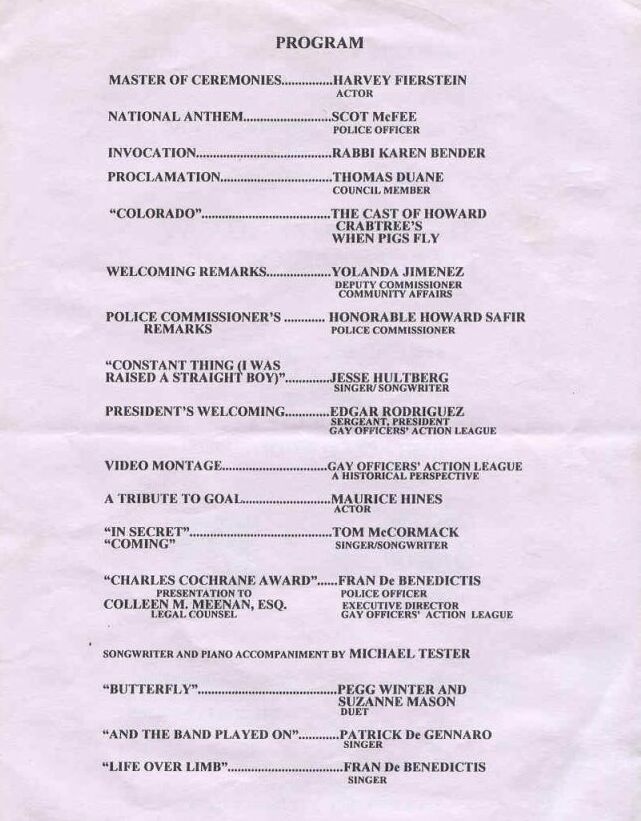 Gay Celebrities include

Harvey Fierstein

and

Maurice Hines

and

Nell Carter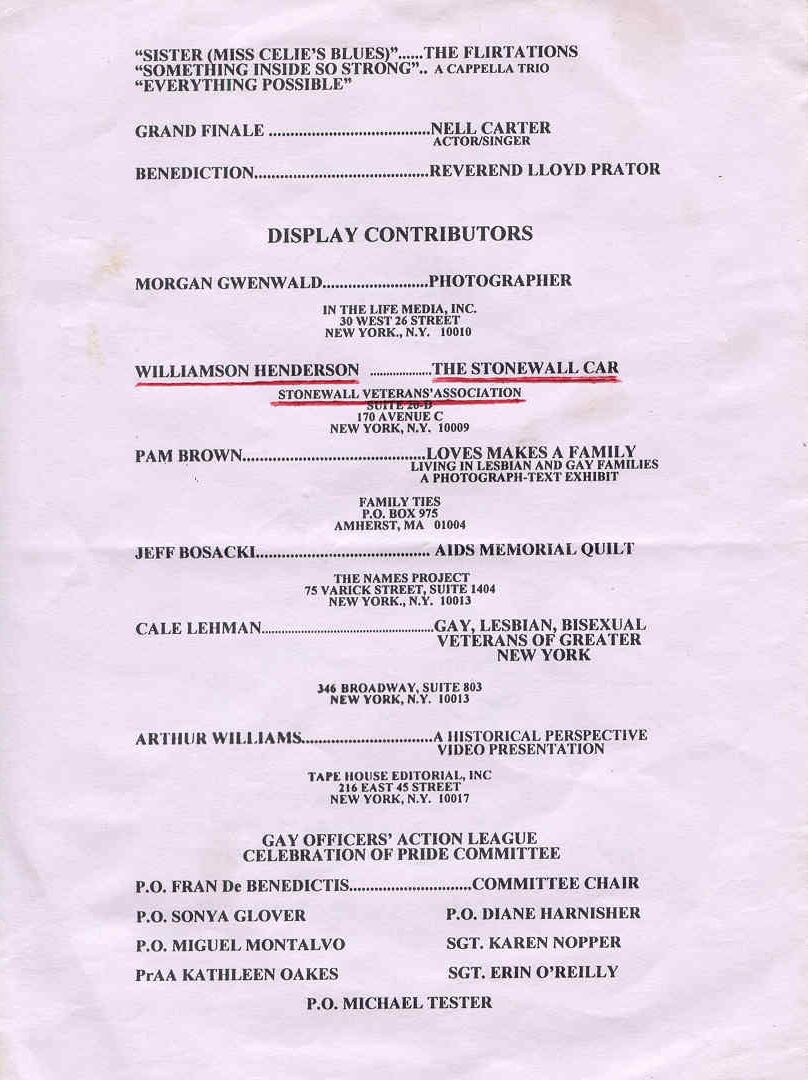 GOAL

's appreciation to the

STONEWALL

Rebellion Veterans Association

,


Willson L. Henderson

and the 1969 "

Stonewall Car

" is printed in their program




* * * * * * * * * * * * * * * * * * * * * * * * * * * * * * * * * * *


S.V.A. & GOAL Tribute to....
NYPD Sergeant and GOAL Officer Erin Jaye O'Reilly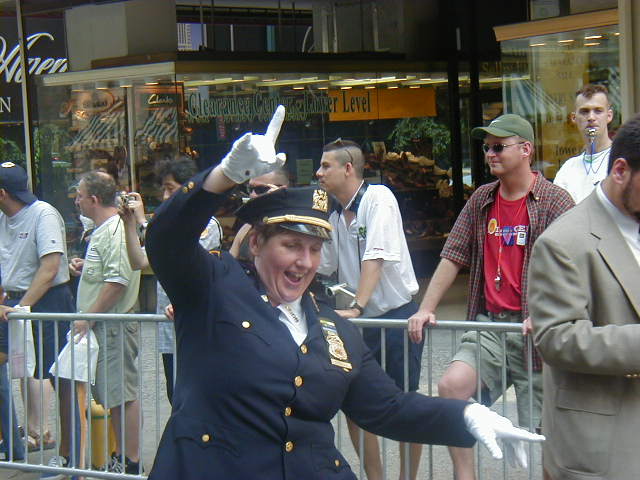 Erin

Oh! in lively and proud action at the 2000 New York City Gay Pride Parade
[Exclusive photography (© 2000) by Tommy Jeans]



Heroic

New York Police Department

sergeant and loyal

Gay Officers' Action League

("GOAL") officer

Erin J. O'Reilly

died suddenly at her home in Long Island on Sunday morning, June 17, 2001 (more sadly on Father's Day as Erin's dad is alive). Erin was very metropolitan New York being born in The Bronx in the new decade on February 27, 1960, raised in suburban New Jersey, worked in various locations in Manhattan from The Village to Harlem and lived in Long Island.

Ironically and proudly, Erin marched with GOAL in the Brooklyn Gay Pride Parade and posed for a pic with the 1969 "Stonewall Car" just the week before she passed. E.J.O. was greatly and gayly looking forward -- as always -- to the New York City Gay Pride Parade in Manhattan in two weeks. She specifically spoke about this in detail with her best male friend in GOAL, fellow Gay and Irish-American officer Sergeant

Tommy Jeans

. There was a tremendous outpouring of love and support for Erin at her 'wake' in New Hyde Park, Long Island, especially from GOAL and a special visit from N.Y.C. Mayor

Rudy W. Giuliani

and the NYPD Police Commissioner

Bernard B. Kerik

. The

STONEWALL Rebellion Veterans Association

and its President -- and Erin's friend and confidante --

Willson L. Henderson

made the huge gesture of bringing out the 1969 Cadillac convertible "Stonewall Car" (with the top down and the later realized the threat of rain) to Erin's services for all to proudly see and have on display. This, Erin would have loved and everyone there knew it -- including the Mayor. After all, Erin even helped arrange to have the "Stonewall Car" on display at NYPD Police Headquarters. See the above GOAL "Gay Pride" program. Erin captively lured Williamson by jokingly asking: "What if one of the Gay cops steals the Stonewall vets' car?" Knowing that Willson would have a quick and quirky retort, Erin grinned with anticipation as Willson declared: "I'll call the Gay police!"

Ominously, less than three months after the unexpected loss of one honored New York police officer, Erin, we all experienced what even Erin must have also believed unthinkable, the dual extremist Islamic terrorists attacks on the island of Manhattan, New York, resulting in the tragic and grotesque loss of dozens of police officers -- New York Police Department and New York City Port Authority Police -- within less than two hours on September 11....




---


2001

-- GOAL Salutes the

Twin Towers


and Fallen New York Police Dep't Officers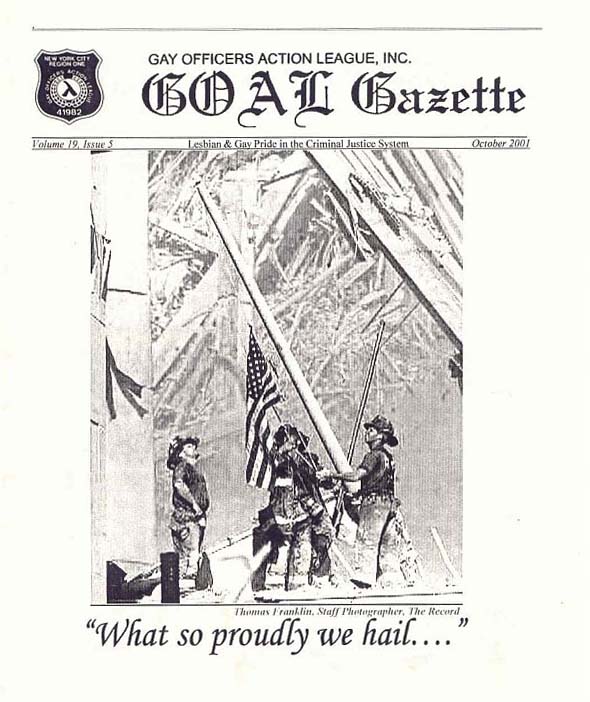 Two (2) Terrorist Attacks in Lower Manhattan, New York, Tuesday, September 11th, 2001




---
2003 -

GOAL

's 21st Annual Anniversary Banquet
This year's GOAL event will be held on Friday, May 2, 2003, starting @ 6:30 p.m. at Ricardo's (as in Ricky) By The Bay Restaurant at 21-01 24th Avenue, Astoria, New York. Event includes cocktail hour, 5-course dinner, awards, music and dancing. Tickets are a reasonable $70 for non-members. For more "411" or reservations, phone GOAL at (212) NY1-GOAL or e-mail
the group at NY1GOAL@GOALNY.org. Visit their website at:

www.GOALNY.org
---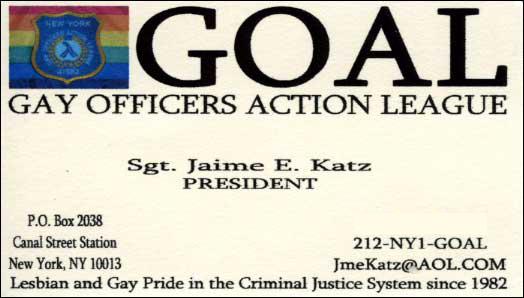 New Millennium

GOAL-NY

presidents include Don

Jirak

(2001 - 2002),
Ann M.

Cregan

(2003), Vivian

Rodriguez

(2004), Jaime E.

Katz

(2005),
George

Ferrugia

(2006 - 2007) and Alice

Muniz

(2008 - 2010)



---


2006 - 24th Annual GOAL Awards & Banquet

Friday, April 21, 2006
7 p.m. to 12 midnight

Grand Prospect Hall
Brooklyn, New York

Tickets: $75 member / $85 non-member
Purchase on-line at: www.GOALny.org




---
New York City Police Department Gay Liaison

Detective Thomas S. Verni
34 1/2 East 12 Street
Manhattan, New York
tel: (212) 614-6749
fax: (212) 614-6746
---
2007: Gay Officers Action League 25th Anniversary Dinner
We heard about it through the "Gay Grapevine"!
Friday, April 20, 2007 @ 7 p.m.
Tickets: $140
(fabulous) Tavern on the Green Restaurant
(beautiful) Central Park, New York
You may visit GOAL at www.GOALNY.org.
---




=2008 GOAL transition=
Sargeant Charles Ciochran dies!

Charles H. Cochrane

, the co-founder and first president of the Gay Officers' Action League
("GOAL") in New York City in 1982, died on May 5, 2008 at age 64 in Pompano Beach, Florida.
He had a long battle with cancer and, unfortunately, had not been up to New York in many years.
Charles will be remembered for his considered courage in "coming out", especially in any inherrently
anti-Gay police department in that recent post-Stonewall Era over a quarter-of-a-century ago.
In late 1981, he testified before the New York City Council that he's a proud Gay police officer!
When he co-founded GOAL, Gay officer Charles Cochrane understandably and smartly contacted
the

STONEWALL Veterans' Association

("S.V.A."). No Gay group had more experience
with and changed the New York City Police Department more than the S.V.A. members with
our watershed, historic achievement of the 1969 Stonewall Rebellion in the Sixth Precinct.
Stonewallers were even part of having competitive fun baseball games with the NYCPD.
"CC" must also be recalled for his determination against all odds -- and threats -- in leading
the GOAL group with many deterrents and minimal support even from Gay police officers.
The diverse Gay community has lost another authentic and effective hero for all!



=Statement by former GOAL Official

=

"

Sargeant Charles "Charlie" Cochrane

is someone whom I can honestly and proudly
state actually changed my life. When he publicly came out Gay, I was deeply honored
to know him. His influence, integrity and leadership made me better as a police officer
and as a person. He was an inspiration to me and his strength is something I've taken
into all areas of my life. I thank him for being the true hero that he was and still is."
----- Sargeant Tommy Jeans




---
2009
GOAL sponsors Law Enforcement Conference
of Gay, Lesbian, Bi and Transgender Police Personnel
June 24th to June 26th, 2009 - Conferences and Social Events
at John Jay College
West 59 Street
Manhattan, New York
*
Saturday, June 27 -- STONEWALL Veterans' Association
"SVA's 40th Anniversary Conference & Stonewall Veterans Reunion"
is at the GLBT Community Centre from 4:15 p.m. to 7 p.m. at
212 West 13 Street (off Seventh Avenue), Greenwich Village, N.Y.
One of the special features is a forum panel with "Stonewall Copz
& Stonewall Vetz" relating to the 1969 Stonewall Rebellion in the
NYCPD's Sixth Precinct. There is a questions and answers session.
Sunday morning, June 28 -- GOAL Stonewall Memorial Breakfast
The traditional Gay Pride breakfast is on-duty @ 9 a.m. until 11 a.m.
The cost is $30. Eatery is Ferro's Restaurant at 145 East 50th Street
in Midtown Manhattan. It is located near parade line-up. For more
event 411, you know who to ask: 'Go ask Alice': (917) 763-4160.

Sunday afternoon, June 28 -- 40th Annual N.Y.C. Gay, Lesbian,
Bisexual and Transgender Pride Parade -- including G.O.A.L.!
The 2009 Gay Pride Parade kicks off on time @ 12 high noon
and is led by STONEWALL Rebellion Veterans Asscociation
with the famous (thanks to NYCPD) 1969 convertible "Stonewall Car"!
---
2015
Demise of GOAL's Co-Founder Sam Ciccione
Salvatore "Sam" Ciccione, co-founder of the Gay Officers Action League ("GOAL") with his partner Charles H. Cochran, Jr. in 1982, died from heart disease on May 10th at the age of 71 in Manhattan. Sam was born in 1944 on March 18th in New Jersey and served on the police force there for many years before relocating to Manhattan to fully become himself and rejoin the force. Sam used to have the SVA's director, Willson Henderson, the founder of Proofreaders Unlimited, Ltd. ("PRU"), do proofreading for GOAL letters, notices and flyers. They were brought directly to Williamson's Manhattan office on Fifth Avenue, proofed by him personally and handed back to Sam and/or Charles -- all free-of-charge. In fact, Williamson hired many GOAL police officers as temporary, free-lance proofers with his company. One of them was Carroll Hunter, a former president of GOAL. Knowing legalese, cops were sent primarily to law firms. Williamson was proud to help make ends meet and then some for openly-Gay police officers. It was also a perfect fit since like the NYCPD schedule, PRU was also open 24/7/365. Thus, they could work when they wanted. It's sad that neither Sam nor Charles got to see the forthcoming new "STONEWALL" movie about Gays and the NYC police in the Spring of 1969 and the ultimate rebellion on the hot Summer night of June 27th! The film also portrays the Gay-enemy, then-commander of the old Sixth Precinct in Greenwich Village. Fastforword, the last time a GOAL officer was at the annual SVA conference was in June of 2009! Unfortunately for the Gay community, GOAL has seemingly become so jaded the last several years (Sam agreed) that it did not even bother to notify the loss to the STONEWALL Rebellion Veterans Association of which Sam -- and Charles -- greatly admired and emulated!
---




2016

New GOAL president

Brian E. Downey

was the wonderfully-received surprise guest speaker at the S.V.A. on Saturday, May 28th, 2016. Appropriately, it was Memorial Weekend! Brian informed about what GOAL has been doing the last few years including reorganizing. He acknowledged that the GLBT community in New York City has been remiss and or slow to truly appreciate the

STONEWALL Rebellion Veterans Association

: "The Stonewall veterans earned the right to be honored a long, long time ago!" The positive planning now is to restore GOAL and the S.V.A. back on track working together. Brian ended his interesting and inspiring presentation with GOAL's new motto:
"Out and Proud -- your NYC Police Department!"


*

GOAL Gay Pride Celebration / Stonewall-47
at
New York City Police Department Headquarters

Co-Sponsor: NYPD Commissioner William J. "Bill" Bratton

GOAL President: Brian E. Downey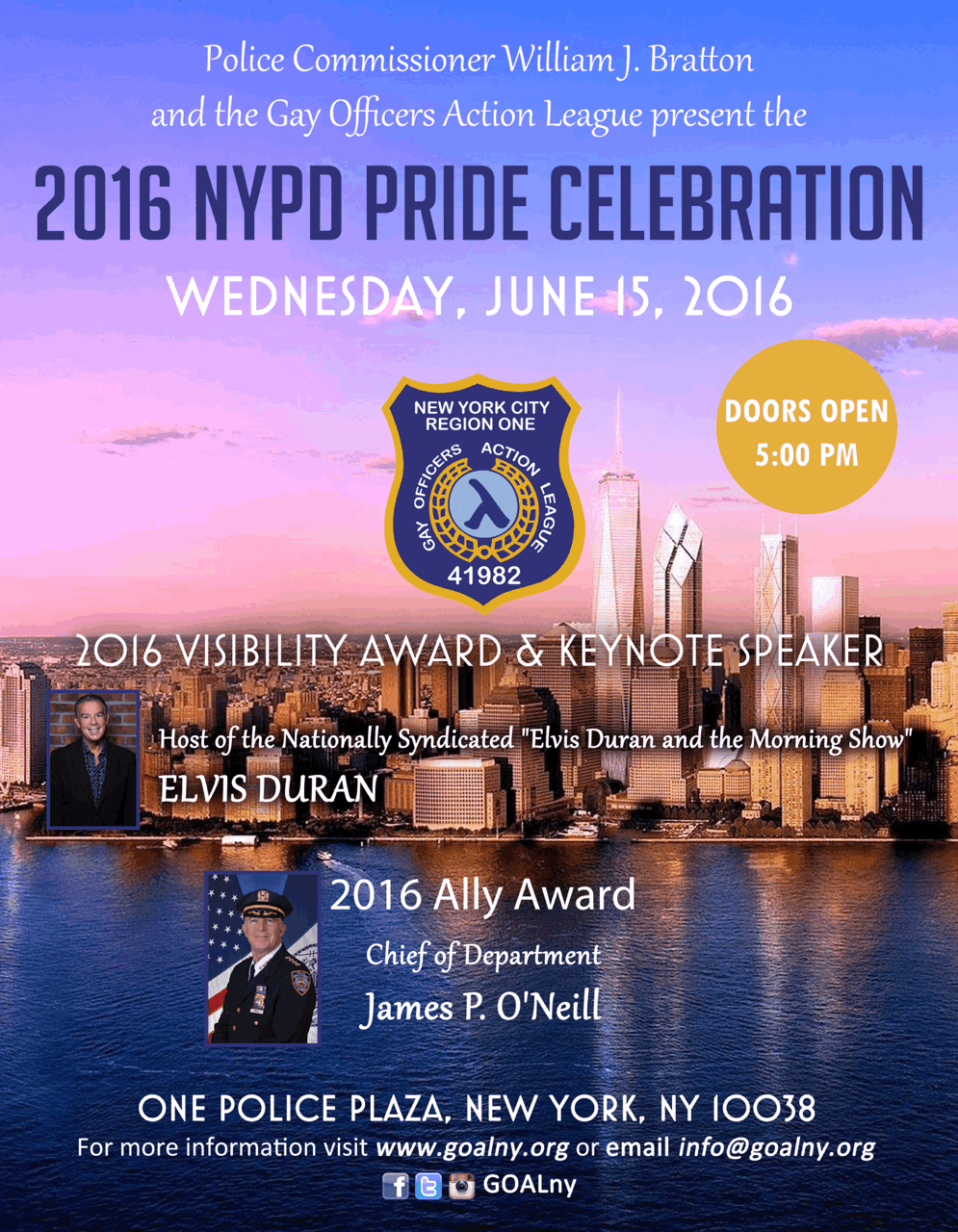 Gay Officers' Action League / New York
Wednesday, June 15, 2016 @ 5 p.m. (doors open)
2016 GLBT Ally Award: Chief of Department James P. "Bill" O'Neill
For more 411 on the NYPD and GOAL Pride event:
www.GOALNY.org


Spring
2016


*

=====2016: 47th Anniversary of the Gay Stonewall Rebellion=====
[Friday night, June 27th ~thru~ Thursday evening, July 3, 1969, Manhattan, New York City]