STONEWALL

Veterans'

Association


2010 S.V.A. Supporters

N.Y.S. Attorney General Eric T. Schneiderman
2010

Eric Schneiderman's Good Wishes to S.V.A. for "Stonewall 41"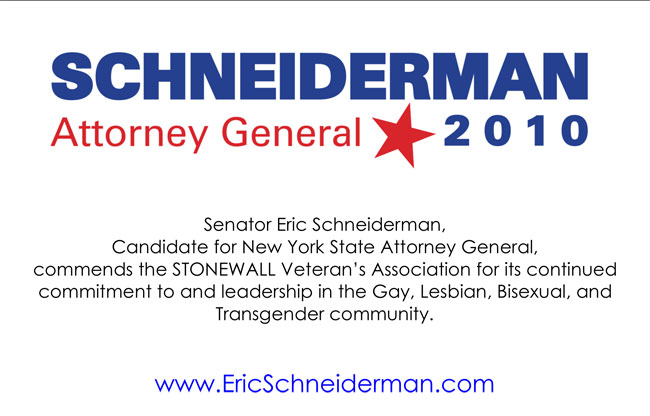 ---
2009
---
2007
[Eric's retrieved (in 2011) Letter to the S.V.A. will be posted soon]
---
2002

NY State Senator Eric's Congratulations to the S.V.A.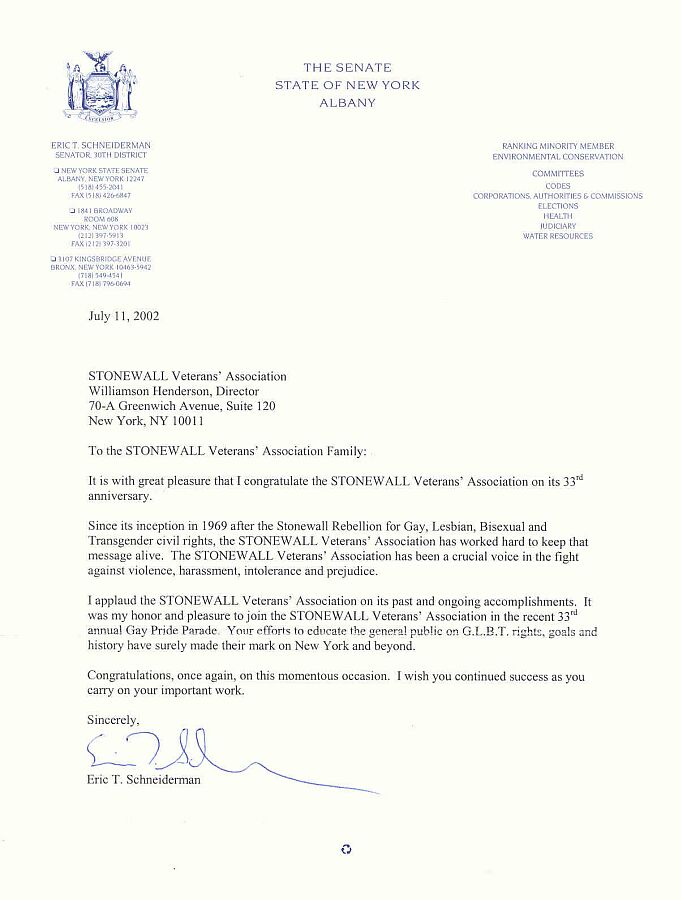 ---





Letter from State Sen. Eric Schneiderman to S.V.A.





*







---






1998



Eric T.Schneiderman has been a consistent supporter of the STONEWALL Veterans' Association since he was first a candidate for the New York State Senate in 1998. Eric S. and his two opponents Danny O'Donnell and Jerry Goldfeder all participated in the SVA-co-sponsored PRIDE Democrats Candidates' Forum on August 27, 1998. Eric was favored by PRIDE Dems. He really went over very well with the diverse full house. It seemed almost immediately after that event as good word got out that Eric took the unstopable lead in that race. The PRIDE Democrats forum was held at the pre-renovated Gay Community Services Center and hosted by S.V.A. President Williamson Henderson. Sectional moderators included: Liz Abzug (PRIDE Dems), Kevin MacGruder (GMAD), Duchess Rayette (Greater New York Gender Alliance), Leigh McManus (GLBT Political Coalition), Noah Pfefferblit (Manhattan Borough President Office) and Jenni Egan (Imperial Queens of New York). By the way, Eric won!





2 November
2010
Election Day: Eric T. Schneiderman wins as N.Y.S. Attorney General!